Beverly Comic Con 5 – 2018 Edition
April 11th, 2018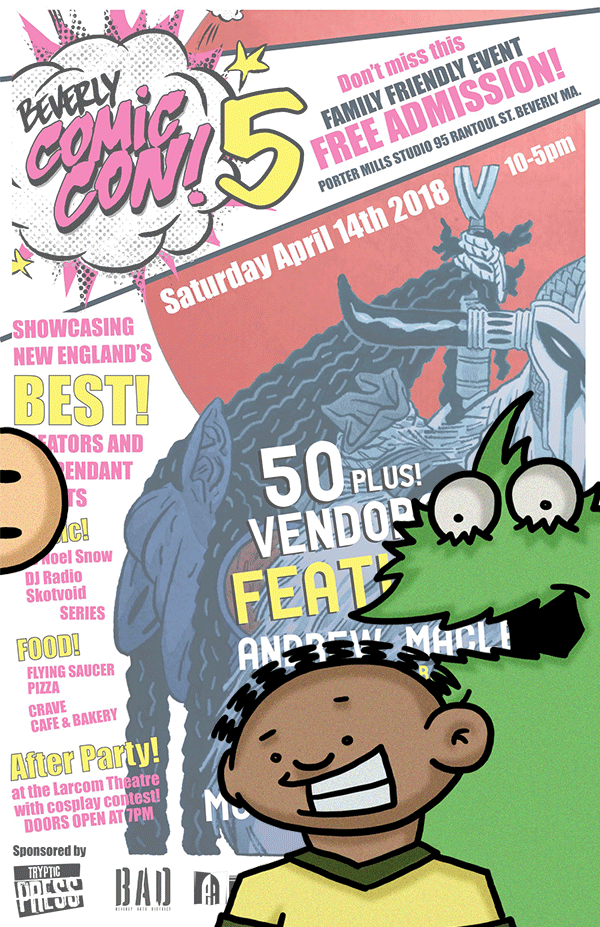 This Saturday, April 14th, is the fifth Beverly Comic Con, in Beverly, Massachusetts.
The show is one of my very favorite conventions, and I look forward to it every year (and that's not because it always seems to land near my birthday). This year, besides my regular comic collections and fun t-shirts, I'll have the new line of Penaizles hats, which have Oliver featured on a green hat, with white mesh, as well as a flat brmmed, all black snap-back with a grinning Oliver embroidered prominently on the front. I also have mt Cat On The Hat, faturing Grace's familiar orange cat from her ti-shirt. And the first Peanizles children's book, "The Day the World Lost It's Color" will be available.
And if all that wasn't enough, I'll be debuting the new prototyes for the first Peanziles plushies, of Oliver and his pet, Dusty, the dust bunny. They look absolutely fantastic, and are super soft and cuddly.
Besides all that I'll be surrounded by a huge array of diverse comic creators and artists and writers! There's a a coffee bar, a full bar for the over 21 kids, and a dj. Phew. It's a blast. And the best part is that it's free!
So swing by and say Hi