It's Interview Time!!!
April 13th, 2012
Hey Gang! I recently did an interview with Dustin Luca at the Andover Townsman about Peanizles.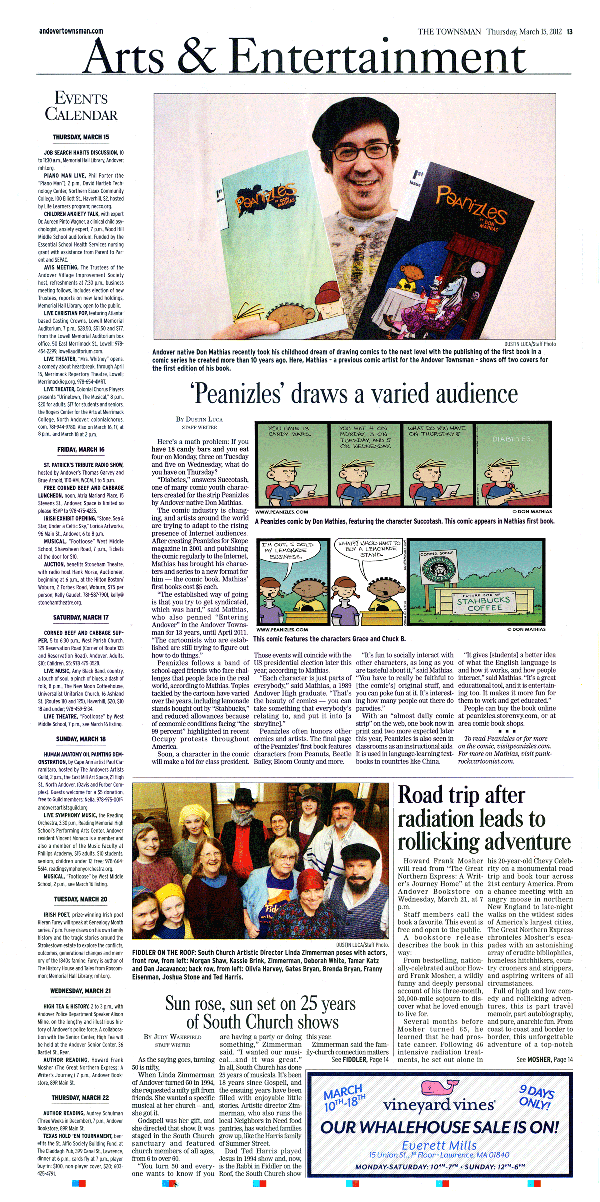 It was great fun, getting to sit down and talk to Dustin about the world of webcomics, comics, and all things Peanizles. And to be honest, it felt a lot like being home. For those of you who don't know, my first long running, weekly comic strip ran in the pages of the Andover Townsman from spring of 1998 to April 7 of last year. The comic strip was called "Entering Andover" (a name which I had for years wanted to change to "Q and A" in honor of the two kids, Quentin and Andrea, of the comic strip) and revolved around a family of four, the Dad at work, the kids at school and the Mother with her massive task of trying to hold everything, and everyone together. It was fun. I got to explore so much as a cartoonist, and got to work with some amazing people at the newspaper. But, unfortunately, with the rise of Peanizles, which had quickly become much more priority, and the constant struggle with the newspaper to keep the Entering Andover going in print, which was becoming more, and more difficult, as space on the printed page was quickly becoming a weekly issue. I decided to retire the comic strip for a while. I loved the characters, and I love the comic. And I'm sure that I'll be working with them again some day. But, for now, Chuck, Succotash, Grace, Oliver, J.R., and the gang are more than enough to keep me occupied.
If you haven't seen it yet, and you're interested, you can read the whole thing over here at the Andover Townsman's website!