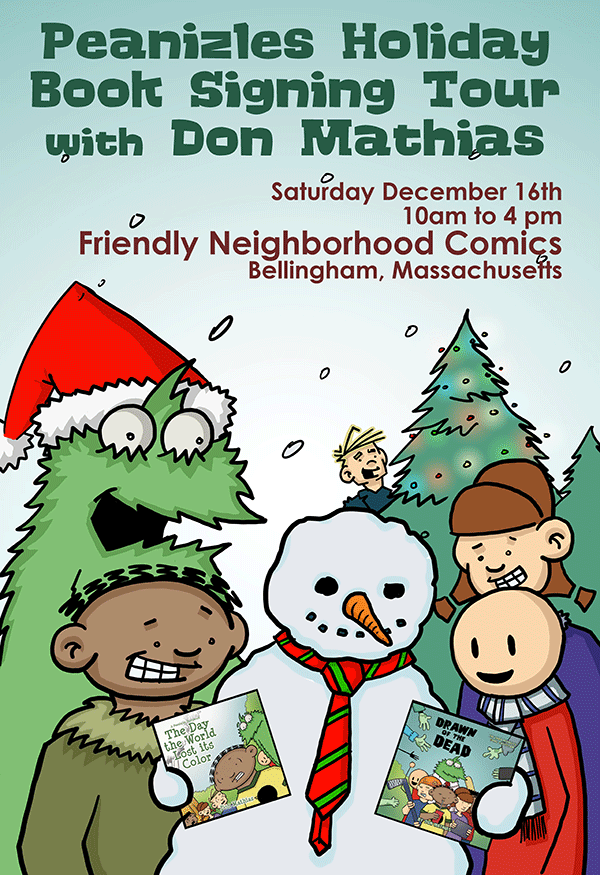 Ho-Ho-Ho!!!
It's another stop on the Peanizles Holiday Book Tour!
This week, Don Mathis, writer, artist, and creator of the Peanizles comic will be at the very special comic shop Friendly Neighborhood Comics, in Bellingham, Massachusetts. He'll have a bag full of all three Peanizles comic collections, It's Pronounced Pea-Nih-Zles, Indoor Recess, the hilarious zombie epic, Drawn Of The Dead, and the acclaimed first Peanizles storybook, The Day the World Lost its Color (which is perfect for kids of all ages). As well as Peanizles t-shirts and hats.
And if that wasn't fun enough, he'll be joined by Peter Simeti and Cody Sousa from Alterna Comics, Ben Goldsmith from Source Point Press, Cesar Feliciano from Comix Tribe, and our super powered, buddy Mike Doherty! Whew!
So come, on, dress up in your very worst ugly sweater and come on and enjoy the festivities, cookies, do some holiday shopping for the comic fan in your life, or yourself.